Find the Help You Need to Thrive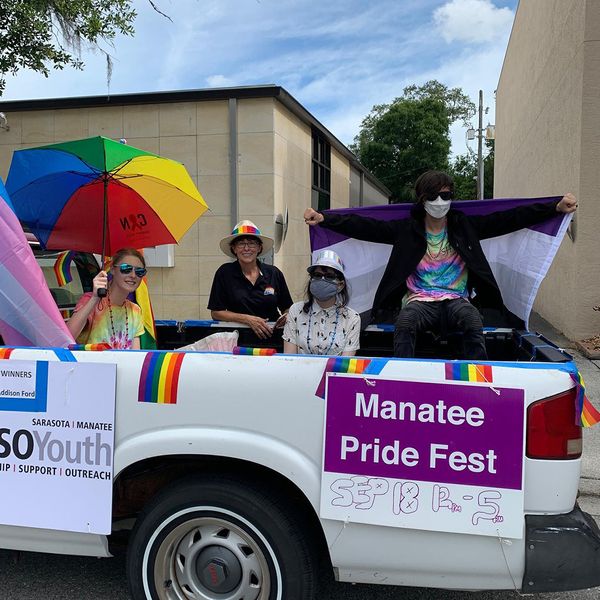 Empowering LGBTQ+ Youth
The LGBTQ+ community faces adversity every single day, and it's not difficult to understand why that can be disheartening, especially when you are just trying to be who you truly are. At ALSO Youth, we created our organization to help empower LGBTQ+ youth so that they can feel comfortable and confident in their own skin. We provide a variety of resources that are available to youth throughout Sarasota and Manatee, allowing you to get the help and support you need to feel empowered, confident, and yourself.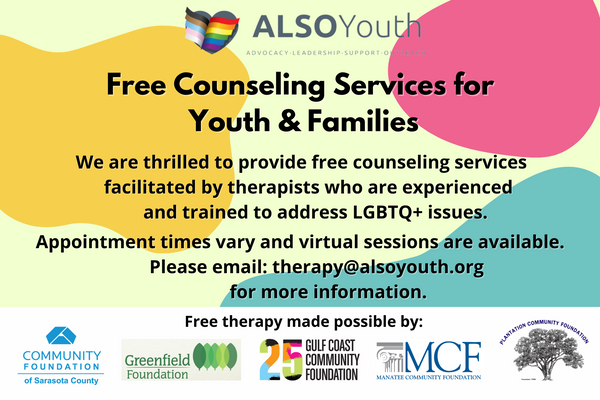 Embrace the Positive
ALSO Youth is proud to offer counseling services to LGBTQ+ youth in the Sarasota and Manatee areas. Our counseling services utilize affirming therapy techniques, meaning during your sessions we strive to focus on the positive aspects of being part of the LGBTQ+ community. This type of therapy will also address the negative influences homophobia, heterosexism, and transphobia have in the lives of the patients, providing them with the support they need to work through how these influences may affect their daily lives.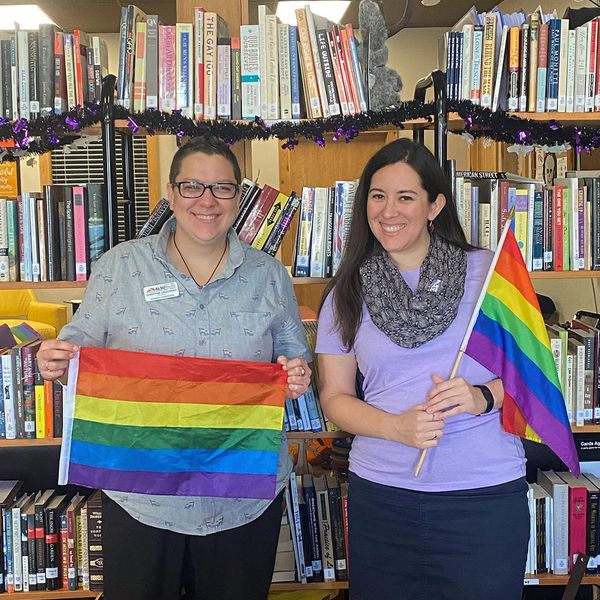 Counseling Services You Can Count On
While the world may be making strides to be more inclusive, it is no secret that we still have a long way to go. For this reason, LGBTQ+ youth may be struggling with who they are and how they are treated.
Our goal is to also provide youth with a safe place where they can talk about their feelings and experiences. We understand that some youth may not have the support they need from friends and family, which is why ALSO Youth works hard to empower young people and provide them with the resources they need, including our Tuesday night Gender Identity Peer Support Group and Friday night General Peer Support Group. These groups serve ages 13-24 years old. Additionally, we offer a Thursday night Parent Support Group in partnership with Forty Carrots Family Center at our Manatee Center.
Our Gender Identity Peer Support Group meets every Tuesday from 6 PM - 7 PM at our Sarasota Center.
Our General Peer Support Group meets every Friday from 6 PM - 7 PM at our Sarasota Center.
Discover the compassionate counseling services you deserve with ALSO Youth!
If you or someone you know is part of the LGBTQ+ community and is in need of counseling services or even just a safe place to express their mind, ALSO Youth is here to help. To inquire about this service, contact therapy@alsoyouth.org!
Subscribe to our newsletter
to stay up-to-date with events & more!